Additional Support
Ideas
Here are some other ways
to support our mission.
Corporations / Organizations
Food Drives
Individuals
Corporations / Organizations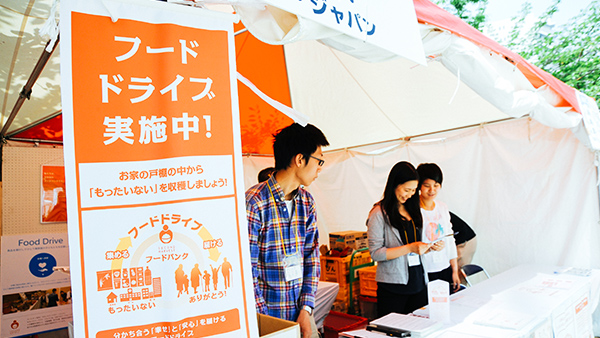 Food drives are great ways to collect food from individuals.
Conducting a food drive
1

Choose dates and locations to collect food donations

Food drives can be conducted over a period of time or in conjunction with an event.

2

Promote your food drive and highlight the foods you are collecting

See our list below of high demand foods and items we cannot accept.

3

Send or drop off the collected food

Please weigh the food for your own records. Food can be dropped off Tuesday - Saturday 10:00-12:00.

Address

Second Harvest Japan
Higashikanda 3-7-3, Chiyoda-ku, Tokyo 101-0047
Phone: 03-5822-5371

4

Share your food drive results with those who donated

Feel free to tell us how much you collected. We love getting photos and videos from your food drives.
Notes on donated food
High demand foods
Rice / Pasta / noodles

Canned goods


(meat, fish, vegetables and fruit)

Instant Food

Pre-packaged food

Seasoning

Snack, Sweets

Beverage, Coffee and Tea bags
Food we do not accept
Expired food (Note: rice does not expire)
Opened / damaged packaging
No expiration date listed
Ingredients not listed in Japanese
We can provide a food drive kit to help promote your event
At this time the information is only in Japanese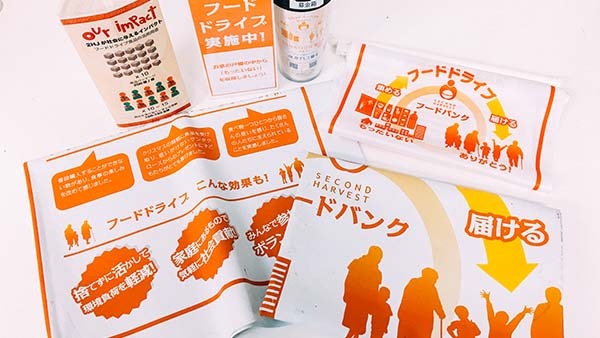 Our promotion kit contains:
-Explanatory flyer (PDF)
-Announcement poster template (PDF)
-Food drive reception banner
-Food drive mini banner
-Tabletop pop-up display
-Cash donation box
*You can expect to receive your kit within 10 days.
Info related to food drives
Inquiries about food drives
Charibon
Individuals
Corporations / Organizations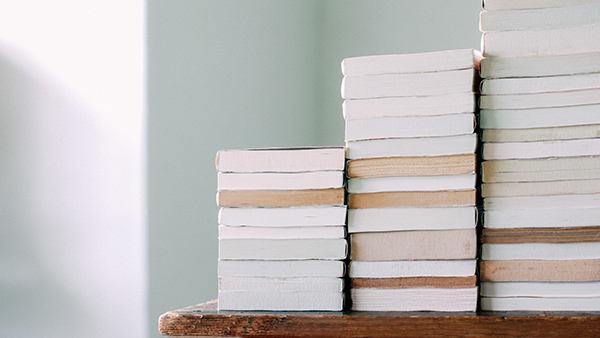 Charibon is a service operated by VALUE BOOKS. They collect used books, CDs, DVDs, and game software and then resell them. A percentage of the proceeds are donated to NPOs like us.
Donations
Pack your items and register
your donation.
Your items will be collected, sorted,
and assessed
by VALUE BOOKS.
We receive a percentage
of the value of your
donated items.
Charibon donation impact
With just 1 book

you provide a meal to those in need.

With 40 books

Send approximately 10kg of food
to a family in need

With 100 books

Support a community food drive
*Calculated based on the average donation of 50 yen per book and average 2022 cost to serve one meal.
Application steps
1

Can the item be donated?

All books must have an ISBN code regardless whether it is a foreign or Japanese book. All CDs, DVDs, and game software must have a standard part number.

What is an ISBN code?

The ISBN code can be found on the back cover of a book. It does not matter whether the book has a barcode or not.
Example: ISBN9978-4-1234-5678-9

What is a standard part number?

It is a combination of 4 alphanumeric characters and 1 to 5 numerical digits, and is clearly indicated on the spine of the case or on the printed side of the disc. Example: VABO-12345

2

Pack your items and register your donation.

Register online and a courier company will pick up your donation at the designated date and time. Shipping is free for 5 items or more.

3

VALUE BOOKS will assess the value of your donated items and makes a donation on your behalf.
Adopt-a-Family Project
Individuals
Corporations / Organizations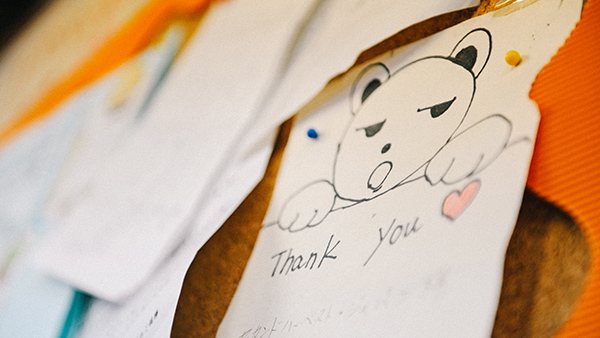 This program runs twice a year to coincide with summer and winter holidays when families with children face an increased financial challenge of providing food. During the school year children through middle school have school lunches. When school is not in session families must provide lunches and this further stretches their tight budgets. Groups agree to "adopt" a certain number of families and pack boxes of food which are sent directly to these households.
Children and poverty in Japan
"Child poverty" is really a misnomer because it implies children have earning power. A more accurate label would be, "household poverty" because it is the parent(s) income that determines their poverty level. It is true the relative poverty rate for households with children remains high. The reasons are complicated and vary throughout the country. However, some the social issues associated with poverty in other countries are not present in Japan. These include high crime, drug addiction, low graduation rates, and teen pregnancy. Nonetheless, food security is an issue because it is directly related to economics.
Poverty rate among children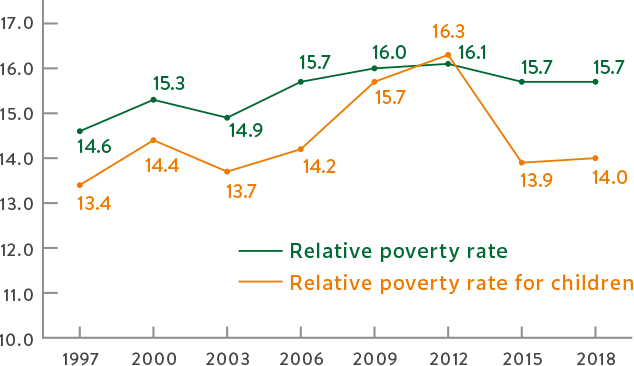 Source: Ministry of Health, Labor and Welfare, "Comprehensive Survey of Living Conditions"
*The relative poverty rate is determined by OECD standards. According to www.data.oecd.org, "The poverty rate is the ratio of the number of people (in a given age group) whose income falls below the poverty line; taken as half the median household income of the total population.
Project Goals
Connect supporters with families in need and provide food assistance during critical times of the year.
Messages from households receiving food will be shared with all participating companies/organizations.
Process
1

Determine the number of families you will support.

2

Register

Let us know the number of families you will support and how many volunteers can pack food boxes. We will confirm the final number of volunteers needed along with the packing date, time, and location. It is not mandatory to provide volunteers to support this project.

3

Pack Food Boxes

On the designated day we will pack food boxes together and include a return postcard from you. We will share those messages with you.
Project Costs
The cost per family is 5,000 yen.
2,000 yen for rice
2,000 yen for food purchases. We will include additional donated food.
1,000 yen for box, packing materials and shipping.
Branded Vending
Machines
Individuals
Corporations / Organizations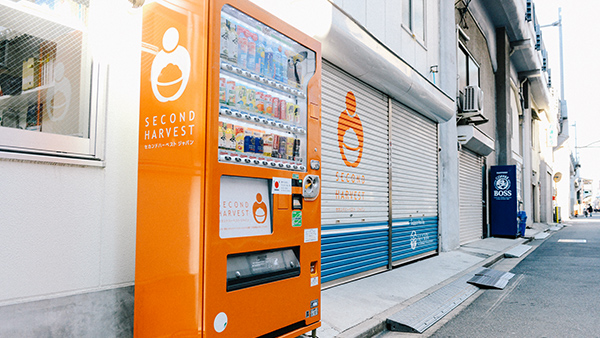 A portion of every purchase from a Second Harvest Japan branded vending machine is donated to us. Branded vending machines raise our profile and increases awareness of our joint efforts.
Process
1

Apply

Applications are accepted by fax and online

2

On-site survey for potential locations

We will visit you along with a representative from the vending company to assess where a machine can be placed. There are a wide range of options to choose from.

3

Contract

Our contract will include the donation amount per transaction which you determine.

4

Vending machine installation

There is no charge for machine installation or unit replacement. You will only be responsible for the cost of electricity, which part of the revenue will cover.