We operate a food pantry in Tokyo.
First-time Users
Steps to receive food
Step 1

Choose a program

Step 2

Make a reservation

*Reservations are not required for some locations.

Step 3

Receive food

*Identification is required for registration at marugohan.
Please read carefully

The food we can offer depends on what is available from our donors. Typically we have bread, produce, instant food, canned goods, and rice.
Unfortunately we cannot accommodate requests for specific kinds of food.
Please bring a photo ID and your own bag to carry your food home.
Parking is not available. Please come by public transportation.
Details on how to receive food for the second and subsequent times will be explained upon registration.
Choose a program
You can also use the map below which lists other programs and their operation and contact information.
Many are supported by Second Harvest Japan, but are independent.
marugohan
Reservation Required
marugohan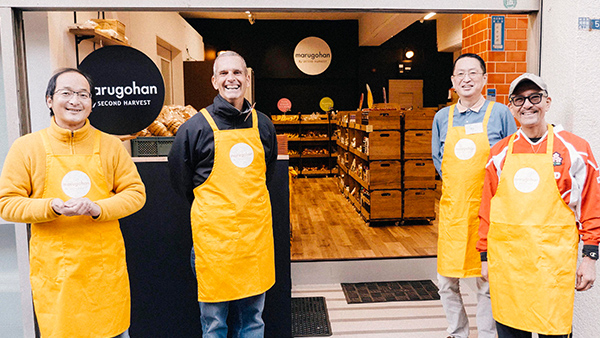 【Important Notices】
Please be noticed that if you haven't switched to "Point" in either card or application from " Coupon" , and if you haven't valid points for 60 days, you can't pick up food at marugohan even if you have a reservation, effective June 1, 2023.
In case you used all points you have, the service at 2hj will be terminated and no additional points will be available.
This shopping-style food pantry allows you to choose the foods you need from an assortment of food items. Instead of paying with cash, users give back to society with a good deed. In addition to rice, bread, canned goods, beverages, etc., the pantry also offers baked goods, fresh foods and refrigerated or frozen items. Please understand that food offerings vary from day to day.
PLACE

4-5-1 Asakusabashi, Taito-ku, Tokyo MAP

OPEN

Thursday Friday Saturday 12:00-17:00 *Excluding holidays
Mobile Pantry
No Reservation
We deliver instant food, bread, bananas, and bentos.
Sumida River Mobile Pantry
PLACE

2-19 Tsutsumidori, Sumida-ku, Tokyo
Along the river in the Higashi shirahige park MAP

OPEN

Second/Fourth Saturday of every month 13:00-14:00
*Excluding holidays
*Please bring a bag
Hot Meal Distribution
No Reservation
We distribute bentos and other ready-to-eat food.
Please understand that food offerings vary from day to day.
Ueno Park Soup Kitchen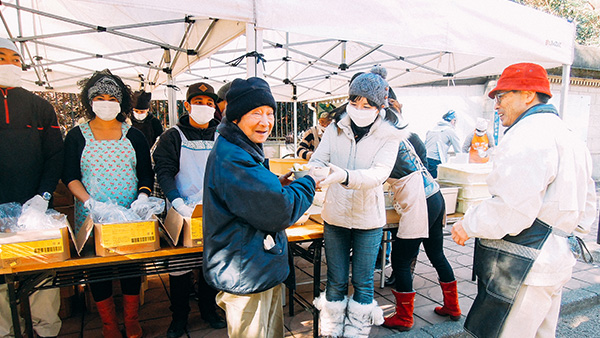 In order to prevent the spread of COVID-19, only boxed lunches will be distributed.
PLACE

Behind the museum in Ueno Park MAP

OPEN

Saturday 12:30- *Excluding holidays
*Please bring a bag
Links to contact
and support information
Daily life support contact information offices in Tokyo and surrounding areas.
Click the link below for contact information and details on daily life support as well as information
on websites that provide support information in Tokyo and surrounding areas.
Please use these references when searching for information specific to your situation.
Single parent
Unemployed
Low-income
Refugees / Foreigners
DV
Elderly
Disabled
FAQ / Inquiries
Answers to frequently
asked questions.

FAQ

If you have any questions,
please feel free to contact us.

Contact Us