Message from one of 2HJ's Interns
Ms. Ayaka Ishii worked as an intern at Second Harvest Japan (2HJ) from April 2012 to April 2013. Ms. Ishii mainly helped out organizing volunteers and events, inputting and managing data and creating documents. Ms. Ishii was always reliable in completing these tasks and all of our staff had great faith in her. We think that it is rare for a college student to be able to show such accuracy in clerical work. Ms. Ishii, thank you for supporting 2HJ!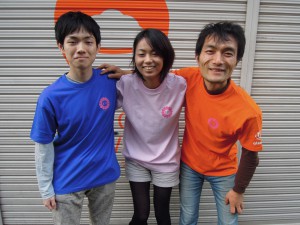 Message from Ms. Ayaka Ishii:
I have worked at 2HJ for a year and was given the chance to go through many experiences. I have learned things that I would not have been able to if I had volunteered, rather than worked as an intern: I have learned that there are many people in Japan who need the help of 2HJ; I have also learned that many people have been helped by 2HJ; in addition, I have also learned that there are a lot more people who are willing to volunteer and help other people than I originally thought there were. Also, since I helped out with a lot of clerical work during this internship, this internship also built my skills.
2HJ's staff member's efforts are essential for 2HJ to run its activities smoothly and help more people. I am not sure if I was able to contribute to those efforts, but I hope I did at least a little. From now on, although what I can do may be limited, I hope to continuously support 2HJ as a volunteer.