Lecture at Shukutoku University and our Monthly Hot Meal Program at the Last Earthquake Survivor's Shelter
The writer of this article, PR staff Rumi Ide, held a lecture at Shukutoku University Saitama campus (Saitama prefecture Irima County.) The lecture was for a course on business management and I talked about career building.
The lecture was mainly on topics related to choosing careers and continuing jobs. Some of the highlights were topics on how to design one's career, how to make decisions at turning points and how to train employees.
I distributed Second Harvest Japan's pamphlet (This 2HJ's 12 page long equivalent of a company brochure), news-letters and leaflets introducing 2HJ to students who attended the lecture.
During the lecture, one of the students asked me, "when was your happiest moment when doing your job?"
The first thing that came to my mind was the words of thanks I receive from those at the earthquake survivor's shelter. 2HJ does a monthly soup kitchen at one of the earthquake shelters.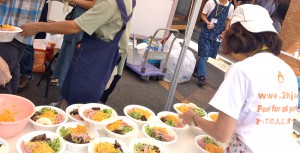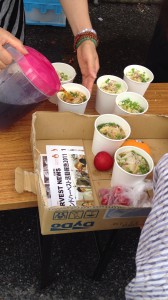 June 13th 2013 marked 2 years and 3 months since the Tohoku Earthquake.
Some survivors from Fukushima are still evacuated at a shelter in Sairama prefecture, at a building that used to be a high school.
This Kisei High School shelter is the only Tohoku earthquake-related shelter left in Japan.
Even though the Kisei High School shelter is the only shelter left, there are still more than 300 thousand survivors living in temporary housing and private apartment style temporary housing units in Japan.
Since there are no facilities for cooking in the shelter, earthquake survivors cannot enjoy home-made food. The only meals in the shelter are bento lunches provided by the government.
2HJ started to provide warm meals at the shelter since May 2012, hoping to provide at least some amount of comfort to the survivors by doing so (we will not hold this event on June 2013, since the Futaba town office is going to change locations.)
We chose menus that cannot be provided through bento lunches; examples of menus we provide are somen noodles, udon noodles and curry rice.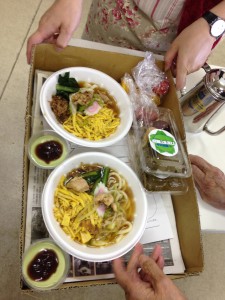 "It was delicious!"
"I want second helpings."
"Thank you so much!"
Hearing these words and seeing the survivor's happy faces makes us happy as well.
We hope to keep up this program and keep up with the support.