UPS Donates $10,000
2012/1/20
$10,000 donated by UPS to support the victims of the Tohoku disaster.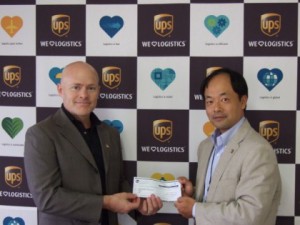 The press release from UPS can be found here.
UPS pledged $1 million worth of financial and logistics support by helping to ship emergency supplies when the Tohoku disaster hit Japan on March 2011.
2HJ cooperated with UPS in the disaster areas and UPS employees also volunteered in 2HJ's soup-kitchen program during October 2011.
2HJ is very grateful to UPS for their volunteer hours and generous donation. This support will help us deliver more food and supplies to the disaster victims most in need now. Thank you very much.