Helping Each Other In Times Of Need
2013/6/17
According to statistics from the government, 80 percent to 90 percent of those under the poverty line in Japan are Japanese. Consequently, most of the people we support through our food bank program and pantry program are also Japanese. However, the percentage of Japanese people who come to our pickup program is relatively low.
There are two reasons that might explain why we have a disproportiantely low percentage of Japanese participants in our pick up program. First, it might be that we are not efficient enough in spreading the word about our program to Japanese people. The second, and more conceivable possibility is that stigma towards poverty in Japan makes it hard for Japanese people in need to come and pick up food.
In order to reach out towards those in need, 2HJ is trying to implement programs that can support them while shielding them from stigma and guilt associated with receiving support.
For example, our pick up program is designed to be a fun event for mothers and children from single parent households. We aim to provide a safe place for mothers and children by hosting our backpack program as an event, rather than distributing food at public schools as in backpack programs in the United States. We also think that our program enables participants to feel happy instead of guilty when participating in our program. Addition to the backpack program, the advocacy team raises awareness on stigma towards poverty in Japan through talks and presentations.
Ontop of designing programs such as this, we would also like to promote a society which every one of us is willing to help each other.
Everybody has had experiences of their family, friends, colleagues and neighbors helping them out when they were in need. Similarly, everybody has experiences of helping out a family member, a friend, a colleague or a neighbor.
If Japan becomes a place where everybody is willing to help out those who our outside of the circle of their daily lives, but nevertheless a member of their society – wouldn't Japan be an even better place?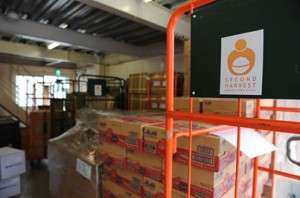 (Post written by 2HJ Intern, Amy Cahill)