Child poverty
2013/7/29
Lately, the words "child poverty" have found their way into the media.
But what does this "poverty" actually mean, and what effect does it have on children?
Take a look at the graphs below.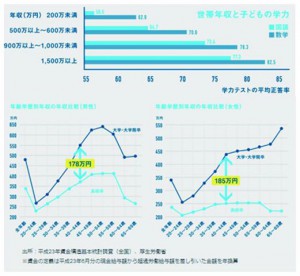 The first graph compares household income to children's test scores.
Children raised in low-income households have lower test scores on average than higher income households.
The second graph is a comparison between the average income of those who graduated from college versus those who did not.
The average income of individuals (households) who graduated from college is 1/3 higher in some places than those who did not. This income gap begins to widen particularly when individuals reach the age of 40, when many may have school age children.
In short, children raised in low-income households tend to have lower test scores. Children with lower test scores may find it difficult to get into or graduate from college. Those who did not graduate college make less money on average.  Children from low-income households tend to have lower test scores.
In short, a cycle is born.
The opportunities that individuals encounter in life are heavily dependent on the environment in which they were raised.
The ministry of health and welfare has declared that 15.7 % of children in Japan live beneath the poverty line. What does this say about the future of the Japan in which we live?
Sera Palmer, Advocacy & Development