July 24th, 2013 Second Harvest Japan's Activities Related to Food Loss are Featured in Asahi Newspaper's Evening Issue
2013/7/25
Second Harvest Japan and its activities related to reducing food loss were introduced in Asahi Shinbun Evening Issue's social column.
They used almost half a page to introduce our activities (we are unable to show you the whole page because of copyright laws, but we will show you a picture of the headline below.)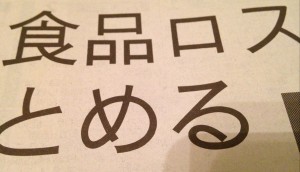 This article was written in relation to an experimental initiative that 35 food producers will start this August. The 35 companies will extend the food delivery limit from the conventional one-third of shelf life to half of shelf-life, so to reduce food loss.
We hope that our supporters will follow this issue with us.