We appeared on July 6th's Nihon Keizai Shinbun (Nikkei Newspaper) as one of Nikkei Social Initiative Award Finalists!
2013/6/7
A feature article on the Nikkei Social Initiative Award appeared on July 6th's Nikkei Shinbun's page 28 and 29.
Nikkei Social Initiative Award was established to promote 'social business'; social business is a concept of tackling social issues utilizing business-like methods.  
This year was the year of establishment of this award. There were over 380 entrees of companies and other organizations, and Second Harvest Japan was chosen as one of the 35 finalists.
Our name has also appeared on the paper as one of the finalists!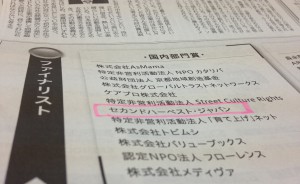 Nikkei Social Initiative Award's slogan is "jobs that receive 'Thank You's."
Second Harvest Japan indeed receives many words of thanks in return to our daily operations.
For example, we are thanked by food companies and farmers for utilizing edible food that would have been disposed if it were not for food banks.
We are thanked by those in need of food when we support them through food banking.
One of Second Harvest Japan's slogan is "from 'mottainai' to 'thank you'." We will continue to embrace and work for our mission.