Second Harvest Speaks attends documentary event at International School of the Sacred Heart
2013/3/9
Second Harvest's Japan's Sera Palmer visited International School of the Sacred Heart On Friday, March 8th as part of a cooperative charity event with Hands on Tokyo.
Sacred Heart hosted a documentary showing of "The Tsunami and the Sakura," which outlines the situation in Tohoku a month after the great earthquake and tsunami disaster. It was a great documentary, contrasting the pain of loss with the joy of witnessing new cherry blossoms in the spring.
During the month of February, Sacred Heart conducted a 10-yen a day campaign, in which each student donated 10 yen a day to Second Harvest Japan's activities, and they students presented Second Harvest Japan with the money before the documentary.
Development & Advocacy coordinator Sera Palmer also gave a quick introduction of Second Harvest Japan's activities in Kanto and Tokyo.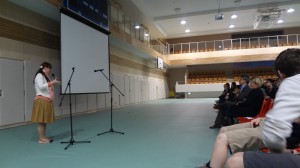 All together, the students at Scared Heart collected 134,755 yen for Second Harvest's Activities!
Thank you so much!