Second Harvest Japan Host a Special Class for Third-Year Students at Higashi Murayama Daigou Junior High School
2013/3/8
On the 26th and 27th of  Feburary, Higashi Murayama Daigou Junior High School invited Second Harvest Japan to conduct a special class on food banking for their 3rd year students.
Second Harvest Japan's Masahiro Otake explained to students about the large quantity of food that is wasted in Japan every day, as well as about the suprisingly large number of people in Japan who live below the poverty level and do not have adequate access to food. This background helped students gain a greater understanding of food banking activities.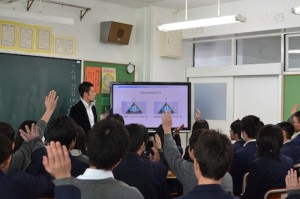 Second Harvest Japan welcomed a suprising number of thought provoking questions from students,  and was very happy to see students take such an interest in food banking.
This special class was thought-up and planned by Shigeyuki Yoshikawa, the head 3rd grade teacher at Higashi Murayama Junior High School, and Second Harvest Japan is very grateful to him for  providing the opportunity to connect with the young minds of tomorrow.
Second Harvest Japan would love to see a food banking class added to the curriculum of junior high schools all over Japan!