Thank you for Working with us for Two Years, Mr. Koichi Hayashi!
2013/6/3
Up to April 2013, Mr. Koichi Hayashi supported us as a staff member for two years while taking a volunteer vacation at his company.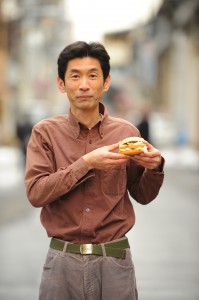 Thanks to Mr. Hayashi and our supporting companies, we were able to improve are efficiency by utilizing a labeling system to input and manage data. Prior to Mr. Hayashi developing this system, we were managing all of our food flow data manually.
The labeling system has also helped improving the traceability of the foods we deliver; thanks to the labeling system, it is so much easier to report 'how much of what is delivered to where' to our corporate donors.
Our board chairman and staff would like to thank you for the great support you have provided for Second Harvest Japan.
Again, thank you so much Mr. Hayashi.
Our staff members are looking forward to seeing you again in various occasions, including our food symposium on October!