First ever coin drive by Second Harvest Japan!
2013/12/25
Have you heard about a "coin drive"? It is a type of fund raising. You are asked to donate coins, and the collected money is donated to local NPOs. That is why it is called a coin drive in Europe and the U.S.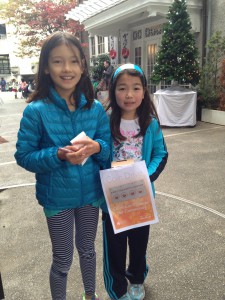 The first coin drive was held the other day by students of Nishimachi International School. They went to school earlier than usual, took to the street holding a donation box with their hands and holding a poster saying "500 yen can provide 4 hot meals in soup kitchen", and asked other students, their parents, and passer-bys for coin donations, shouting "please donate for Second Harvest Japan!"
Their diligent and enthusiastic attitudes made people smile.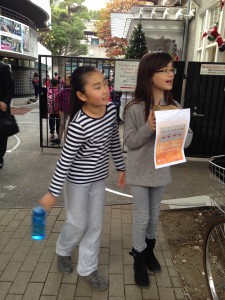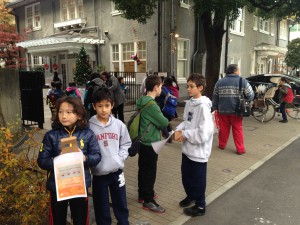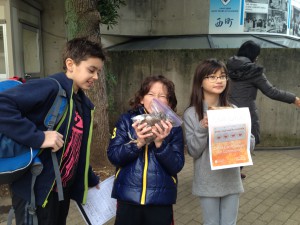 Nishimachi International School's successful coin drive was followed by KAIS International School, Crossroads International Kasai Church, and Tokyo Lutheran Church in December. All the money donated in these coin drives will be spent for 2HJ's Saturday soup kitchen. It helps 2HJ provide hot meals for homeless people at Ueno Park. Millions of thanks to those who held those coin drives and to those who donated coins!