Invitation to volunteer party!
2013/10/25
Dear Volunteers:
Autumn is finally upon us and the weather has cooled noticeably; and reason to party!!!  We are organizing one on 9 Nov 2013 at Try Naka-Meguro and like to invite all our volunteers for this party.  This event is meant as a big "Thank you" for all the hard work and contributions you have made to 2HJ this year.  It is also an opportunity to network and mingle between the volunteers and staff, and share their experiences and most importantly, to have a good time.  There will be entertainment provided by our volunteers Mr. Suzuki (Golden Sunshine Band) and Ms. Hayakawa Mariko.  Volunteers are encouraged to invite their friends but they have to be registered volunteers with 2HJ and due to limited space, on a first-come-first-served basis.  If you wish to do so, you are welcome to bring your own food and drinks to the venue.  Detail for the event is as follows: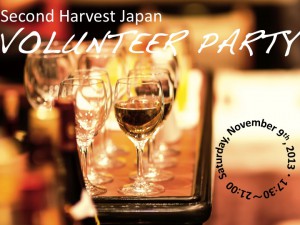 Date                : 9 November 2013
Venue         : Try Naka-Meguro (Nakame bldg. 5F, Kamimeguro, Meguro-ku:http://www.nakameguro-try.com/)
Time                : 17:30 – 21:00
Fee                  : \3,000 (Inclusive of food and drinks)
Capacity          : approx..150 person
Please RSVP with Alex Osawa at alex@2hj.org as soon as possible to avoid disappointment.  See you there!!!
From:
Alex Osawa, Megumi Takahara, Ayaka Iinuma