~Seeking Participants!~ Summer Baking Class for Children hosted by 2HJ – Vol. 1
2013/6/28
~Seeking Participants!~
Come bake cookies with us and make great memories this summer break!
Second Harvest Japan and Shangri-La Hotel Tokyo will host a baking event for parents and children from single parent households.
A professional pastry chef will share his delicious cookie recipe that is easy and fun to make.
The pastry chef and volunteers will be there to help you out during the event.
We are more than happy to assist participants with very young children.
There will also be yummy gifts from Second Harvest Japan.
●Link to a report of our last cooking class: http://2hj.org/english/activity/report/event/281.html
●Voices from parents who participated last time:
I was moved. I was very happy to know that there are people who will assist me in raising my children. My daughter enjoyed making more cookies at home with her brother, using the dough that we brought back from the event.
This event was better than any other events I've ever been to. The staff members were always smiling and were very kind.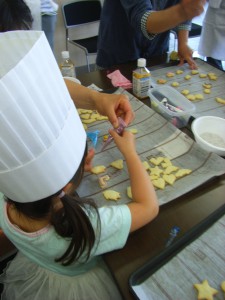 Information:
Participation Fee: Free!
Date of the Event: Friday, July 26th  – from2PM to 4PM
Place: Iwase Esta's Kitchen Tokyo-to, Ota-ku Minami-Rokugou 3-11-1
Transportation: 7 minute walk from Keikyu line Rokugoudote station
※15 minutes from JR line Shinagawa station when using Keikyu-line's limited express; 10 from Keikyu  line Kawasaki station
See below for a detailed map of the location
Notes:
・Participating children must be 3 or older (however, brothers and sisters younger than 3 are also able to participate)
・We will be using flour and eggs in our baking event. Please refrain from participating if the participating child is allergic to flour or egg.
・We will escort you from Keikyu-line Rokugoudote station to the place where the event is held
How to Register: 
Please provide the following information and contact us via e-mail.
You can also register by making a phone call to Second Harvest Japan.
・Name of the parent
・Number of participating children and their ages
Contact us at:
E-mail: pantry@2hj.org
TEL: 03-5822-5371 (Tuesday to Friday from 10AM to 6 PM)
Please ask to talk to Sugiyama (Pantry Team staff) when giving us a call.
※Feel free to contact us if you have any additional questions!
Co-hosted by
Shangri-La Hotel Tokyo
Council on International Education Exchange
Second Harvest Japan
 Second Harvest Japan has been hosting backpack programs since 2012 to support children in need.