A New Way to Support "Miritary Charity Performance"
2013/3/28
"Miri" Sugihara has agreed to host another "Miritary" Charity Performance to benefit Second Harvest Japan!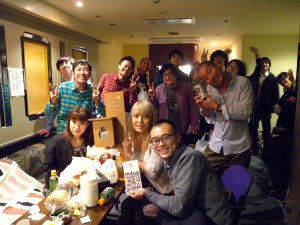 (Photo of the after party of last year's performance)
The "Owarai" performance, or Japanese comedy performance hosted by Miri Sugiyama will donate all of it's profits to Second Harvest Japan's activities.
This is a great way to support Second Harvest Japan by just showing up to hear some great Japanese comedy!
Definitely come and check out the event, practice your Japanese listening skills, and support this great new cooperation between the comedy and NPO worlds.
You will even be able to meet a 2HJ staff member at the event!
Date & Time:
Saturday, May 25, 2013
Kankoukyou Harmonic Hall (関交協ハーモニックホール)
Event begins at 2:30 PM (doors open at 2 PM)
Entry fee: 1.500 yen
You can find the most recently updated information on performers a the link below. (Japanese only)
  ◆Miritary Charity Live
   http://www.miritarylive.com/
Invite your friends along for a great time!

*Read more about last year's Miritary Charity Performance here: https://2hj.org/english/activity/report/event/58.html