Soup Kitchen for Evacuees from Fukushima, Two Years After the Disaster
2013/3/12
March 11th 2013 marked the two year anniversary of the Great East Japan Earthquake and Tsunami disaster.
On this day, Second Harvest Japan conducted their monthly soup kitchen for evacuees from Fukushima prefecture.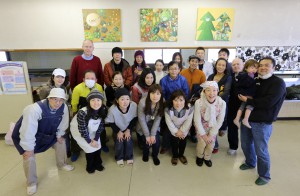 Second Harvest Japan staff and volunteers prepared and served gomoku udon. The bento lunch boxes that evacuees eat everyday never include any type of noodles, and so Second Harvest Japan tries to prepare menus that people will not only enjoy, but also that they would not have access to otherwise.
Of course, there is not very much nutritional content in just noodles, so 2HJ  made sure to add plenty of vegetables, meats and other products that contain important nutrients and minerals to the udon.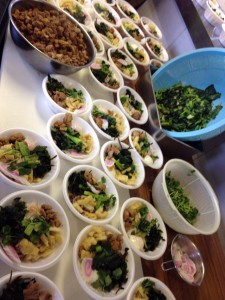 We also prepared and served a vinegar salad with cucumbers and wakame seaweed from Sendai,
kukiwakame,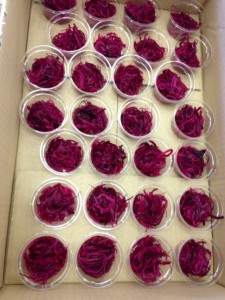 and jello for dessert. This jello was made with agar-agar, not gelatin. This agar-agar was donated specifically for this soup kitchen.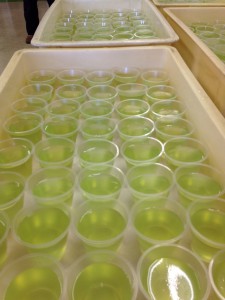 Morrison Foerster has been a great supporter of Second Harvest Japan's activities, and they have helped out at every soup kitchen this year.
This month, the volunteers from Morrison Foester purchased sakura-strawberry daifuku and kusa-mochi daifuku to distribute to evacuees.
Thank you so much!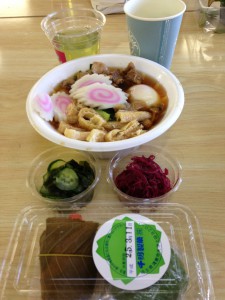 Two volunteers who joined us from faraway Hokkaido gave everyone an impromptu oboe concert.
Thank you so much!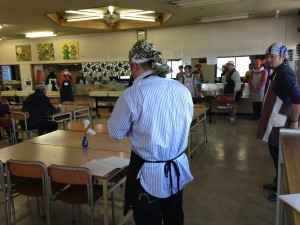 Below is a picture of all the volunteers who came out to help.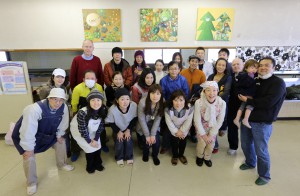 2HJ does our best to provide support to those in need, but we are always moved when company employees take paid vacation off from work to help.
We will continue to provide nutritional support to evacuees in the hopes that they will be able to live more comfortably.