Charity Event for Second Harvest Japan!
2013/3/6
This Saturday (March 9th) one of Second Harvest Japan's supporters will host a charity event at Coins Bar 300 in Shibuya!
The event will start at 8 PM, run until 1 AM, and feature great hip-hop music! The night's DJs include United Crates Crew DJs and DJ Hassle from Amsterdam.
There is a 300 yen charge at the door 100% of which proceeds will go to Second Harvest Japan. Drinks will be 300 yen, with 100 yen "Charity Shots" available for those who want to give a little "extra" support to our cause!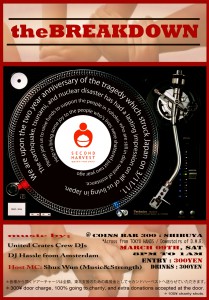 Definitely come out and join other supporters of Second Harvest Japan!
We look forward to seeing you there!