Collaborating with local government and NPOs in Atsugi to support students in need ~ University students in need rapidly increase due to COVID-19
2020/6/16
Second Harvest Japan supplied food to an emergency pantry May 21-23 to support university students and others affected by the COVID-19. crisis.
Atsugi City and NPO Heart 34 (Heart Miyo) jointly established "Food Bank Atsugi" in 2019 as a part of the citizen's collaboration proposal project. The food for this emergency pantry came from our warehouse in Yamato City, Kanagawa. Food Bank Atsugi chose to run this emergency pantry after hearing many stories from students such as, "I lost my part-time job due to COVID 19″ and "I can't move to my parents' house located in the other prefecture to get their support". A wide range of foods such as rice, retort pouch foods, sweets and beverages from the warehouse was delivered.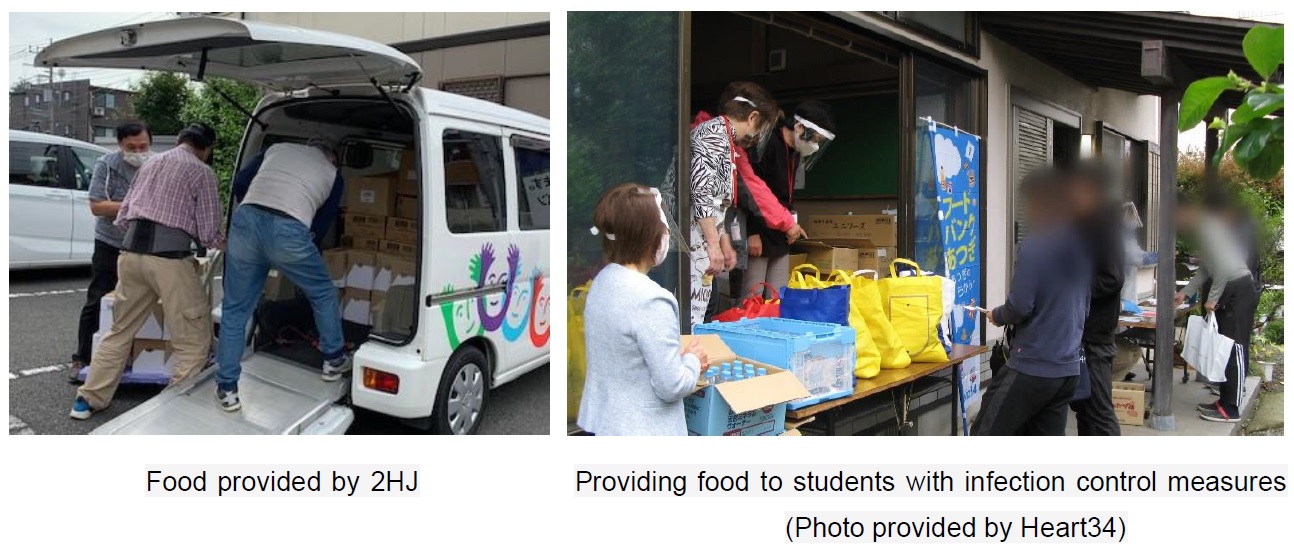 According to Food Bank Atsugi, 679 users were served in during this period. The user survey showed the severe economic situation of students, and there are many happy voices from the students receiving the food heard at the pantry.
We continue to promote new pantry launches in Tokyo, Saitama and Kanagawa through our project, "Tokyo 2020: Food for 100,000 ( http://www.2hj.org/100000pj/ )".In Kanagawa, we operate a pantry every Saturday at our Yamato warehouse and , supply food to affiliated pantries in the prefecture from that location. We, also respond to inquiries to open pantries, increased because of COVID 19.We will continue to strive to establish a food safety-net that allows everyone to receive food in a safe and secure manner regardless of economic conditions.