Warning: Invalid argument supplied for foreach() in /home/2hj/www/english/wp/wp-content/themes/theme/single.php on line 90

Invitation for our Annual Volunteers' Party
2015/11/3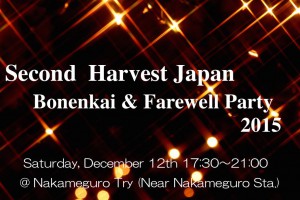 Invitation for our Annual Volunteers' Party
Autumn is quickly coming upon us. We hope you all are doing well.
We would like to express our appreciation for your support to the
Second Harvest Japan.
We are pleased to announce that our Volunteer Party will be back again
this year. Many volunteer members enjoyed this party last year.
This is a great opportunity to meet with other volunteer members and
our staff.
Great food, beverages, and music will be provided.
In addition, it will be a farewell party for 2HJ staffs, Hiroshi Suenaga, Megumi Takahara, Akira Kawada.
《Details Information》
Date: Saturday, December 12th, 2015
Doors Open at: 17:30pm (party starts at 18:00pm)
Place: Nakameguro Try
(Nakame Building 5F, Kamimeguro 3-6-5, Meguro-ku, Tokyo)
https://sites.google.com/a/nakameguro-tr…/zhong-mu-heitorai/
Fee: 3,000 yen/person (includes food & beverages)
Capacity: 150 persons
Registrations: Please send e-mail with number of participants to
takeda@2hj.org with title "Year-end Party registration"
Maximum of 3 people can be invited per group (they need to be 2HJ volunteers).
Feel free to bring your own foods and beverages to the party
Venue capacity is limited, thus, registration will be accepted on
first-come-first-serve basis.
Look forward to meeting you all at the party!
(Takeda)