[Press Release] Tokyo 2020: Food for 100,000 Creating a food safety-net for those in need
2017/2/9
---
MEDIA
2017年2月9日
Second Harvest Japan
Tokyo 2020: Food for 100,000
Creating a food safety-net
for those in need
Japan's first food bank expands its activities
Second Harvest Japan (head office: Tokyo, Taito Ward), the first incorporated food bank in Japan, launched an ambitious campaign to create a food safety-net for Tokyo. This campaign called, "Tokyo 2020: Food for 100,00" has the goal of creating a food safety-net in which 100,000 unique users can access food assistance in Tokyo in 2020. Upon receiving funding from the「National Movement to Support Children's Fund[1]」which was created by the Nippon Foundation at the behest of the Prime Minister's Office, they established a new warehouse just across the boarder of Tokyo, Adachi Ward in Yashio, Saitama. The location of the warehouse will allow them to reach those households in need in Adachi Ward, which has the highest poverty rate of the 23 Tokyo wards.
According the Japanese government statistics, the relative poverty rate is approximately16%. In Japan there are an estimated 2 million who lack food security: access to enough safe, nutritious food to carry out daily basic daily functions (this the generally accepted definition by FAO and WFP.) Unfortunately, Japan lacks a food safety-net to give access to food assistance for those in need. Food safety-nets are common in many large cities. For example New York City has 1,100 places to access emergency food; Chicago 600; San Francisco 250; and even nearby Hong Kong has 160. In Tokyo there are less than 50 locations that provide assistance with most only providing a hot meal in a public park once a week.
Second Harvest Japan incorporated on March 11, 2002, as an organization to improve food security by using surplus food resources in the community. The believe that a robust food safety-net will increase food security for all people. To accomplish this project they are working with a wide range of stakeholders that include government agencies, welfare institutions, NPOs, faith-based groups, schools, food companies, and financial institutions. They believe that Second Harvest Japan, as a food bank, is a community asset and that all people should have access to its services.
For inquiries
Media Contact: Miki Ito(090-2489-4480、miki@itomiki.com)
For information on donating food or funds
Second Harvest Japan  〒111-0053 Tokyo, Taito-ku, Asakusabashi 4-5-1 Mizuta Bldg 1F
TEL: 03-5822-5371 / FAX: 03-5822-5372
For additional questions please use:https://www.2hj.org/contact/
[1] Officially press release http://www.nippon-foundation.or.jp/en/what/projects/ending_child_poverty/
---
About Second Harvest Japan
Second Harvest Japan is working to create a food safety-net for so that those in need such as single-parent households, the elderly, refugees and migrant workers, as well as low-income households can have access to food assistance. Second Harvest Japan also provide food to over 260 welfare institutions, NPOs, faith-based groups, regional food banks and after-school programs each month. As of February 9, 2017, they have signed donor agreements with over 1,200 companies and organizations. Second Harvest Japan continues to pioneer food banking.
Second Harvest Japan Programs
・    Harvest Kitchen: Provides hot meals to after-school programs and bentos to those in need. Food is prepared in a health department certified food production facility. The first of its kind for any food bank in Japan
・    Harvest Pantry: Provides direct services to those in need by distributing perishable and non-perishable food to households in need. Recipients can pick up food directly at 2hj (Thursday / Saturday) or a distribution point
・    Food Banking: Collection and distribution of wholesale food donations to welfare facilities, NPOs, faith-based groups, regional food banks and after-school programs who provide services to those in need. Since 2002 over 1,200 companies have signed agreements with Second Harvest Japan to donate food
・    Kids Café / 子ども食堂:We will begin operations in March. Provide a place where children can have a light meal and study. Will operate six days a week by the end of 2017.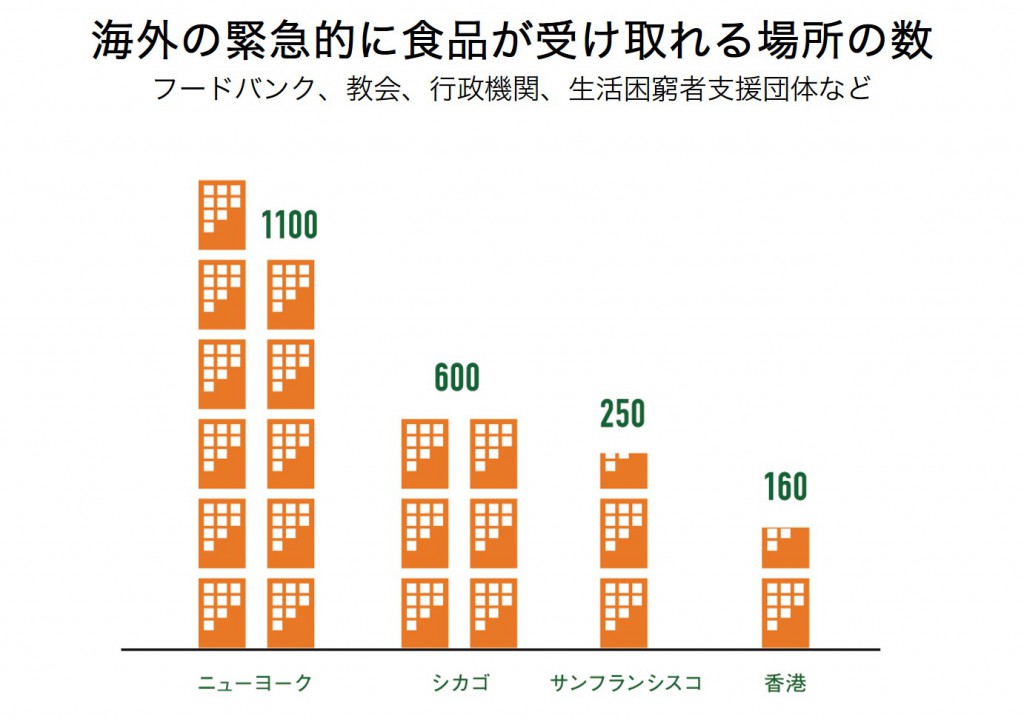 Reference material
NYC: https://www.hungerfreeamerica.org/hunger-free-nyc
Chicago: https://www.chicagosfoodbank.org
San Francisco: http://www.suntopia.org/san_francisco/ca/food_pantries.php
Hong Kong: http://foodbank.sjs.org.hk/en/home.action