Providing food to 30,000 households in Okinawa with the support of Barclays
2021/9/2
---
PRESS RELEASE
September 2, 2021
Second Harvest Japan
Providing food to 30,000 households in Okinawa with the support of Barclays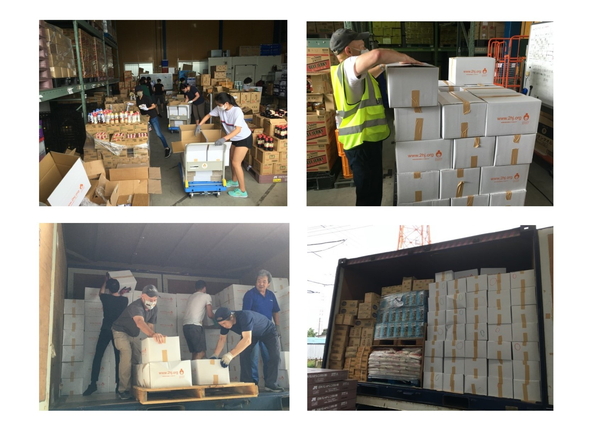 Second Harvest Japan (hereinafter referred to Second Harvest ) has been implementing the "Usagamisore Project" to support households who have difficulty in securing daily food in Okinawa by collaborating with various stakeholders, including the Barclays Group (hereinafter referred to Barclays ) since July 2020. By the end of August 2021, a total of 30,000 households in Okinawa have been served.
"Usagamisore" is an Okinawan word meaning "Bon Appetite". The project started by incorporating the Okiunawan phrase, yuimaru which means mutual help, Usersnot only receive food, but also bring food donations to share with others. Each time nearly 90% of users bring something.
Barclays reached out to Second Harvest in April 2020 to see how they could support those affected by the pandemic. Largely due to Barclays' generous funding support, Second Harvest expanded its reponse to Okinawa, where the economy was decimated due to zero in-bound tourism and a poverty rate of more than 30%. Thanks to Barclays' funding the equivalent of more than 400,000 meals in both Okinawa and The Greater Tokyo Area. Moreover, Barclays' employees in Tokyo also played an important role in the fall of 2020 when they tranlsated into English 300 comments from Okinawa users. This is valuable in sharing with other stakeholders outside of Japan the impact the aid that is being provided. It also gives those recipients a way to share their gratitude with those have make this project possible.
In June 2021 Barclays employees looked at all of pickup data from Second Harvest Asakusabashi pantry from October 2020 to May 2021, and created a sophisticated model to show trends, who came the most often, and problem users. They created teams to see who could come up with the most innovative way to present the data.
The CEO of Second Harvest, Charles McJilton stated:
"It was Barclays' generous donation that prompted us to expand our aid to Okinawa. Their support enabled us not only served people in need but also developed key relationships with government, NPOs and other stakeholders. We sincerely appreciate their cooperation and look forward to the partnership with Barclays, who continues to make a wide range of social contributions"
Kosuke Morihara, Country CEO for Japan, Barclays stated:
"At Barclays, we are committed to helping the communities deal with the unprecedented social and economic crisis caused by COVID-19. This is why we are delighted to partner organisations like Second Harvest who are making tangible and meaningful impact to lives especially in such trying times. Barclays colleagues also play an important role in delivering our Citizenship commitment as we strive to play a positive role in society."
Second Harvest continues to collaborate with Barclays and other companies, governments, and various stakeholders to provide food to people in need of food assistance caused by COVID-19.
---
Second Harvest Japan Press Contact: Kumie Wama +81 70-2251-8859   kwama@2hj.org