Volunteer interview No.7: Kuniyoshi Oguri
2011/12/8
Our volunteer interview No. 7 features Kuniyoshi Oguri. The interviewer this time is Yuko Sakaue from the previous interview.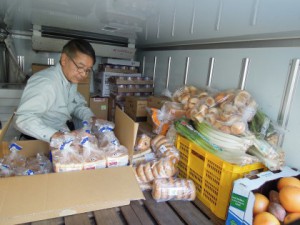 What made you decide to volunteer at 2HJ?
After the Great Hanshin Awaji Earthquake in 1995, I had strong urge to do something for those suffering. Dr. Junko Umihara, a psychosomatic physician, says in one of her books, "Anybody does something about their own pain. I hope that many people can feel others' pain like their own and do something for them." This inspired me to volunteer for others. When I had a full-time job, my volunteering was irregular, but occasional volunteering gave me many learning experiences. I learned about Second Harvest Japan (2HJ) in the media some years ago and wanted to volunteer there. After I retired, I contacted 2HJ to ask for a volunteer opportunity, and they welcomed me right away. This is how I started volunteering at 2HJ. Now I have been volunteering at 2HJ for a year and a half and am very happy to be helpful to others.
What do you actually do at 2HJ?
I go pick up bread with close expiration dates, rice, fruits and vegetables partly damaged during packing from foreign hypermarkets and other donor companies. After removing damaged parts, I load the food into a 2HJ's truck, drive to social welfare agencies or churches, and unload the food they need. Also, we often have food already at 2HJ's office before picking up food from somewhere, and I deliver them to the agencies as well.
How did you feel, when you saw, for the first time, a lot of good food that would have gone to waste?
I heard that 500 to 900 million tons of food are wasted every year in Japan. The amount of food I can salvage at 2HJ is one ten-thousandth of it. It is as small as a grain of sand in the seashore. But it is not zero, and even one grain can make somebody happy. I think that is still meaningful. I feel this way because of what I learned from my volunteer experiences in Kobe. The volunteer leader there once said to us that "What you are doing is only a ray of light. But when each ray bunches up together, they can light the survivors and give them hope." His words removed my ambivalence that my volunteering was a self-indulgence and encouraged me to continue volunteering afterwards.
What impressed you so far at 2HJ?
There are countless things. But the most impressive thing among them is an encounter with Ota-san (an interviewee of the interview No. 4), who kindly taught me basics of volunteering in my early days at 2HJ. He genially says, "Thank you for your continuous donations" or "Thank you" with a smile over and over again not only to donors, but also to recipient agencies. I believe, saying thank-you is a good thing in general, but I wondered why he was thankful even to recipient agencies. When I asked Ota-san about this, he answered, "We cannot deliver food to every recipient in need by ourselves. Only with the help from agencies who pass food along to hundreds of recipients, the 2HJ's mission can be achieved. That is why I want to say thank-you to them." His explanation satisfied me. I felt even more encouraged by it. He also gave me advice like what time people at agencies take a lunch break, how we should handle food donations, and what kind of people are coming to the agencies to pick up food. For example, we try to deliver soft bread to agencies with many elderly clients. His advice was full of thoughtfulness, and I felt that his thoughtfulness relates to the spirit of 2HJ. People at this recipient church which functions as a hub of the food delivery pray on a previous day of our delivery that food with a long shelf life like rice will be delivered. Knowing this, I can share their happiness when we receive a good amount of food with a long shelf life.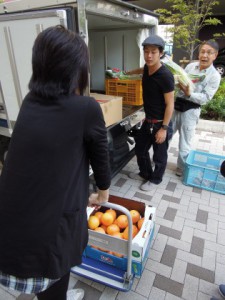 As a volunteer driver I have many opportunities to meet different people; sisters from overseas at a recipient church were helping foreigners who couldn't communicate in Japanese at places like a court and an immigration office. I heard one of 2HJ's volunteers decided to go to a driving school so that he can drive a large truck. Many foreign travelers volunteered too, even though their stay in Japan is short.
One time, there was a shopping cart full of bread left outside for us at a donor hypermarket. When it started raining, staff people there put a cardboard to cover the bread. The thoughtfulness touched my heart.
Has your volunteer experience at 2HJ made any change in yourself?
I had already been in the habit of volunteering at 2HJ, but, in September, I came across a book, The Challenge of Food Banking: Between Poverty and Plenty, written by Etsuko Ohara and published by Iwanami Shoten. The book is about the philosophy of Charles, the founder of 2HJ, the history of their activities, struggles, achievements, and challenges. Reading the book enabled me to better understand the whole picture of 2HJ.
At a different volunteer place, this person said to me, "Even if you think it is good for others, it does not necessarily mean people will agree with you. But the longer you are committed, the more likely good outcomes show up." I think Ohara's book carries the same message.
What do you hope will become of food banking?
I hope that food banking will grow more and more. I believe that many people feel the same way. The more food banking grows, the more people will be able to find a hope. But this can demand more workloads and even higher quality of works for 2HJ members. A box of relief supplies sent to Tohoku weighs more than 20 kilograms. Often they load 300 boxes, and they are very heavy. I want volunteers to take a good care of themselves. Also, even if food banking expands a lot, I hope that thoughtfulness, heart, and communication will remain as their core values as they are now.
I hope more people embrace the achievements and trust 2HJ's pioneers like Charles created in the past and the greatness of the hard work of those staff members and volunteers in Tohoku. Also, I hope the network of those who share the spirit of food banking will grow steadily.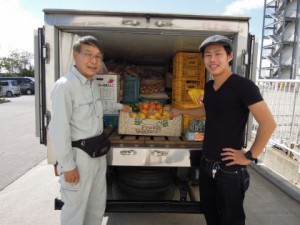 Oguri (left) and a fellow volunteer, Suzuki