"More like having fun than working" Volunteer interview No.9: Ms. Sagane and Ms. Shiramizu
2012/4/12
For our volunteer interview No. 9, Mr. John Wood interviewed Ms. Sagane and Ms. Shiramizu, both college students helping our hot meal program.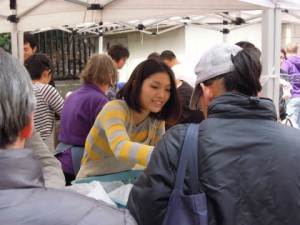 (Above) Ms. Shiramizu
By way of introduction, please tell me something about your background. Where do you come from and what are you studying at university?
Ms. Sagane: I'm originally from Kyoto. I lived in the United States for three years when I was little, so I speak both Japanese and English. I'm now majoring in English Studies at my university.
Ms. Shiramizu: I'm from Fukuoka and now I'm studying English at Sophia university.
How did you hear about us and what was your motivation to seek a volunteer opportunity with us?
Ms. Sagane: I heard about Second Harvest Japan in my class and I wanted to volunteer in my community since I had already done some volunteering outside of Japan.
Ms. Shiramizu: I had a course called "Investigations for Volunteer Activities" last semester, and I got to know about this organization  through it. In that course, we were required to do at least 45 hours of volunteer work. The teachers suggested some volunteer organizations and I chose 2HJ just because it was close to my house and school.
Have you been involved in any volunteer activities before?
Ms. Sagane: Yes, I volunteered in Cambodia. I taught English to junior-high students every summer since 2009 for a total of three weeks using original texts that we designed. It was a very unique experience.
Ms. Shiramizu: No, I haven't.
(Above) Ms. Sagane
Are university students around you aware of and well informed about volunteer organizations and what is their attitude towards volunteering?
Ms. Sagane: I think university students are more aware of organizations helping people outside of Japan than those working inside the country. Within my group of friends, it seems like they aren't opposed to volunteering, but they are hesitant to actually do so.
Ms. Shiramizu: I think there are many students who have never been involved in volunteer activities. I personally know only a few people who have worked as volunteers. But that doesn't mean university students are not interested in volunteering, it's just because they never think about doing volunteer activities since we don't have volunteer education in school. In fact, when I talk about 2HJ to my friends, many of them seem interested and some even want to join us.
What were your first impressions?
Ms. Sagane: My first impression was "comfortable." People at 2HJ have been nice to me from the start. I feel very much at home here.
Ms. Shiramizu: The volunteers and workers at 2HJ were all very friendly, and the atmosphere was nice and open. I thought it was more like having fun than working as a volunteer.
What are you most excited about volunteering at 2HJ?
Ms. Sagane: Meeting people. There are many people at 2HJ. I enjoy talking to people from different backgrounds and getting to know many things.
Ms. Shiramizu: The best thing about volunteering at 2HJ is being able to talk with people of different ages, nationalities, occupations, backgrounds, etc., all while having fun working together.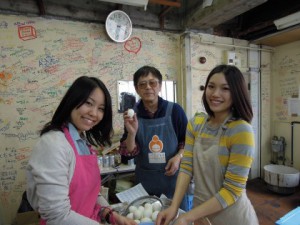 Do you have any ideas about what you want to do after you graduate from university?
Ms. Sagane: I like to interact with people so I want to do something where I can meet many kinds of people. It would be even better if my job allowed me to use English to communicate with people around the world.
Ms. Shiramizu: I'm right in the middle of job hunting right now. I would like to work for a commercial company after I graduate. Once I find a job, I plan to continue volunteering at 2HJ about once a month.