"Distributing Evenly is an Art" Interview No. 10 – Takeshi Hirose
2013/3/15
Our tenth volunteer interview is with Takeshi Hirose, who has been volunteering with 2HJ's soup kitchen for years.
Ms. Sagane conducted the interview.
How did you become involved with 2HJ?
It was through an article in the newspaper. I became interested in 2HJ and what a food bank did, and then visited the 2HJ homepage. Around that time, the founder of the Grameen Bank in Bangladesh won the Nobel Prize (for its microcredit services). The concept of the food bank is to utilize what would have been waste and to turn "waste" into resources, which I believe is even a better system than the microcredit program. There is always a risk with banking and finances, but the food bank does not have any! In addition, a food bank defines its volunteers' time as a "donation." In general, civic engagement volunteering seems to call for benevolence, but a food bank is different in the sense that volunteers are donating their "extra time", which goes back to the idea of turning around "waste" (i.e. your extra time) into resources. Then I thought this was something I could do too, and signed up to be a volunteer right away.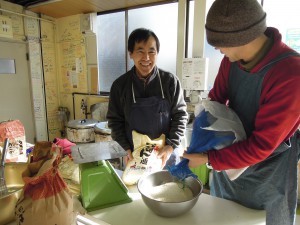 Why have you been volunteering with 2HJ for a long time?
2HJ does not force on anybody an idea of what needs to be done, and the organization is very clear about it. There are diverse volunteers of all genders and ages, from students to retirees. You meet so many wonderful people and learn from each other, that sometimes you end up being part of other projects without realizing it! There is an award in Major League Baseball named after a former player Roberto Clemente who said "Any time you have an opportunity to make a difference in this world and you don't, then you are wasting your time on Earth." I agree with his statement, and because I like the relaxed atmosphere of 2HJ, five years have gone by quickly since I started volunteering.
What are the most rewarding moments when you volunteer?
With the "Soup Kitchen", it's when we provide just the perfect amount of food items to all of the recipients who come. It may seem pretty simple and effortless, but there is a lot that goes on behind the scenes – from measuring quantities to estimating the number of recipients for the day. When we serve just the right amount, it gives me a sense of accomplishment. It also feels great when new volunteers join the team and continue to volunteer, and at a certain point, they can take on new responsibilities and complete tasks perfectly by themselves. Currently, the main food preparation is cooking the rice, and the steps of making the rice and the directions on how to use rice cookers are posted on a wall as a manual, so anybody can take the shift and complete the task. I also feel great when volunteers take on certain tasks with confidence and when they feel the sense of accomplishment, which leads them to consider continuing to volunteer.
Another rewarding moment came when I used to deliver food to children's homes, where I established a rapport with both the kids who lived there and staff who worked there. It was a world I didn't know existed previously, and it made me realize how unaware I had been. Knowing that I was sending a message to the kids, along with the food, that they were not alone, gave me a great feeling about what I was doing.
Do you have any visions or hopes of how 2HJ might grow as a non-profit organization in the future?
Without a doubt, the system of food banks is definitely a necessary function in Japan, and of course in the world. I believe each prefecture should have at least one food bank, if not more. 2HJ does put an effort into publicity and outreach about what a food bank does, and hopefully that will help each region to establish a system to support a local food bank. That would be wonderful and is my hope.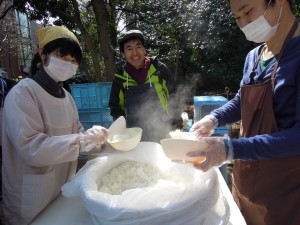 All of our volunteers have their own individual motives for volunteering, but the words of Roberto Clemente, which Mr. Hirose introduced during his interview, encouraging us to live a meaningful life, introduces one good reason.
During the 5 years that Mr. Hirose has volunteer for us, he has not only given his life more meaning, he has lent more meaning to 2HJ's work.
Mr. Hirose, thank you very much!