July 4th, 2013 Interview with Kawasaki City Kodomo Yume Park (Kid's Dream Park)!
2013/7/16
Did you know that Second Harvest Japan (2HJ) regularly sends food to 352 organizations?
In order to introduce organizations that we support, one of our interns went along with the food delivery team and interviewed some of the organizations we support.
We interviewed Mr. Tomogane from Kawasaki City Kodomo Yume Park (Kid's Dream Park) this day. Kodomo Yume Park is an organization that supports children and youth who have difficulty fitting in their school, household or local community. Yume Park offers a fabulous place for children to spend time at; Yume Park offers facilities decorated by colorful artwork, a spacious playground and fun and creative activities.
Cahill (Intern): Hello. My name is Amy Cahill. I am an intern at 2HJ. Thank you for interviewing with us today.
First, please introduce us to Kodomo Yume Park's activities and its mission.
Mr. Tomogane: We provide a safe place for children who have difficulty fitting in school, their own household and their local community. Children who come to our programs are usually elementary school, middle school or high school students who are in school refusal. However, there are other users such as students who come here after attending school, children who spend the morning here and attend school in the afternoons and youths who are in an older age group.
Cahill: When was Kodomo Yume Park established?
Mr. Tomogane: We have been hosting similar programs in Kawasaki City Takatsu Ward since 1991. It has been 10 years since we were put in charge of this facility by Kawasaki City.
Cahill: Please tell us how Yume Park was established.
Mr. Tomogane: Our organization's board chairman started the organization to support children in school refusal by providing a space for them to spend time during the mornings and afternoons. Since then, our organization had grown from hosting activities in one room to hosting them in two rooms, from hosting them in two rooms to hosting them in the facility we are using today… and so on.
Cahill: May I ask how you (Mr. Tomogane) started to get involved in Yume Park's acticities?
Mr. Tomogane: I knew Yume Park's board Chairman personally since I was a child. When I was in college, I sympathized with Yume Park's idea that there should be places to study and play other than school. Since then, I am involved in Yume Park's activities.
Cahill: Does that mean Yume Park also provides academic support to children?
Mr. Tomogane: Yes. We help out children who spontaneously show their willingness to study, mainly in math and writing.
However, there are only 9 staff members while there are 100 children who regularly use our facilities. We strongly hope that, in the future, more adults who are eager to teach will find us so that we can match them up with children who want academic support.
Other than academics, we also strongly wish that participants in our program will have a great time in our play park.
Cahill: Your facility has a great play park that is perfect for kids to play in!
Mr. Tomogane: One of our mottos for our activities is to "have fun with one's own responsibility." We wish that our play park will provide children with opportunities to challenge various things, and we hope that they will learn from failures. Of course we make sure that nobody will get severely injured, but we think that the cycle of small failures and learning something from them benefits children's growth in general.
Cahill: One last question: can we ask how the food we deliver is utilized at your organization?
Mr. Tomogane: It helps us a lot since we can add variation to the lunches we provide for children. We currently use 250 yen per lunch; thanks to the food you deliver to us, we are able to add side dishes to our meals. In addition, we utilize your items to host events such as baking classes for children in our program.
We think that meals are an essential part of children's growth. For example, for mental stability, being able to have access to adequate amount of food is essential. Some of our program participants are from households that cannot afford the 250 yen for lunch, so the food you provide us with helps us afford paying for the lunches for these children.
Cahill: We're glad that 2HJ's food is supporting your activities. Lastly, do you have a message that I can bring back to other staff members at 2HJ?
Mr. Tomogane: Your support means a lot to us. We are grateful to be able to receive support in the form of "food", something that is perhaps the most important thing for sustaining life.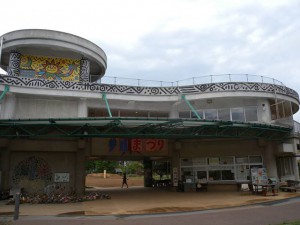 Thank you Mr. Tomogane!
The link to Kodomo Yume Park is shown below:
2HJ is able to support great organizations such as this only because we receive so much support from all of you. Thank you everybody!