Donate your Emergency Food Supplies to 2HJ before they Expire!
2013/4/23
The Tokyo Metropolitan Government enacted a new ordinance regarding emergency provisions for those stranded after a disaster. This new ordinance is based on concepts of self-help, mutual assistance, and public assistance, and will come into effect on April 1, 2013. The ordinance advises employers to stock enough emergency food and water to feed all employees for three days.
These emergency supplies also have expiration dates and need to be replaced before their expiration. This is where Second Harvest Japan comes in. We accept donations of emergency supplies to hand out to those in need all over the country.
Since the Tohoku disasters in 2011, there has been a notable increase in donated emergency supplies from companies.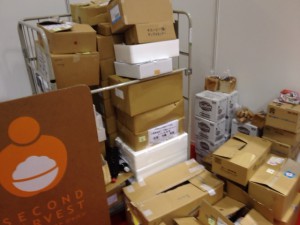 Recently, we have heard stories of emergency supplies going to waste, due to companies not keeping track of the expiration date or these supplies. Please contact the person in charge of emergency food, and remind  him or her to donate emergency supplies to 2HJ or other local food banks BEFORE their expiration.
http://www.bousai.metro.tokyo.jp/japanese/tmg/jyoureirihu.pdf