Workshop in collaboration with HAIZAIPJ
2013/4/25
A workshop was held in the 2HJ kitchen led by Kazumi Oosuga, who has been volunteering with the soup kitchen preparation every Friday and is board member of HAIZAIPJ.
At the workshop 2HJ volunteers and staff members learned how to make fashion accessories such as brooches, necklaces, shoe ornaments, pierced earrings, and hair bands using surplus cardboard from bookbinding factories and leftover colorful threads from knitting factories.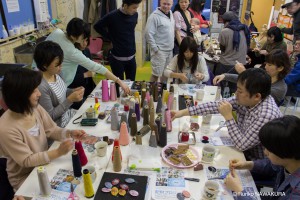 It was as if our kitchen had been magically transformed into an art studio by the resplendent and colorful artist materials!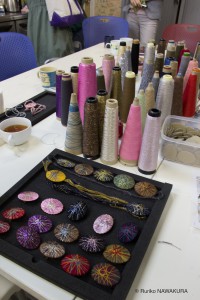 Everyone really enjoyed using their hands to make their own favorite accessories.
When the workshop ended, Ms. Oosuga and the other participants were treated to aromatic coffee and mouth-watering chocolate cakes prepared by 2HJ's long-time volunteer and great cook, Mr. Ooka.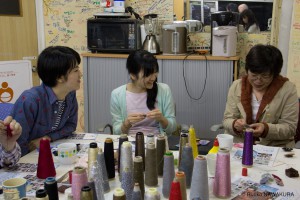 If you are interested in learning more about HAIZAIPJ, click the link below.
http://www.haizai.jp/ (Japanese only)
★ You too can use 2HJ's kitchen for a charity event. If you have an idea for one, send us your proposal to info@2hj.org.