Books for the Children of Datte City!
2013/3/1
On February 7th, Nu Skin Japan, Second Harvest Japan's biggest financial sponsor, executed their "Smile Library Plan" and donated the materials for a library to serve 21 elementary schools in Datte City, Fukushima.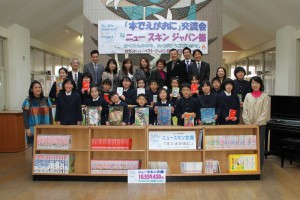 The "Smile Library Plan" is a part of Nu Skin Japan's larger "Nu Skin Children's Hope Project" and was executed to support primary education in the disaster areas.
Nu Skin Japan's motive for this project was to help bring smiles to the faces of children with good quality books, which the children of Datte City may not have had access to otherwise. The children of Datte City continue to carry out their everyday lives while worrying about the effects of radiation and the situation surrounding the nuclear reactor. This library project was executed as a way to bring back "dreams and hope" as well as "bright smiles" to these children.
Smile Library Plan Specifics:
- Recipients: 21 Elementary Schools in Datte City, Fukushima
- Students: 3,324 (as of May, 1st 2012)
- Library Name: Nu Skin Library "Books to Make Smiles" (hon de egao ni)
- Books: 5,907 Children's Books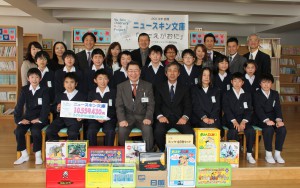 Nu Skin Japan will continue to work with Second Harvest Japan to bring smiles to the faces of children.